ABOUT US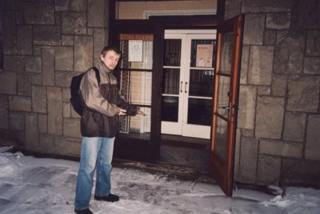 I would like to tell you about our ministry in a Lutheran Library in Skoczów, the so-called "Library for everyone" or "Library on a hill", which has been gathering Christian published works for 22 years.

The beginnings were in the 1960s, when Christian literature in Poland was unique. In that time, as it is also in the present, a lot of young people participated in youth meetings organized at the Lutheran Church in Skoczów. If someone has found a good book, that person would bring it to the meeting right after he/she read it. All those precious gifts were being gathered in one place, so that anyone who wanted could borrow and read them.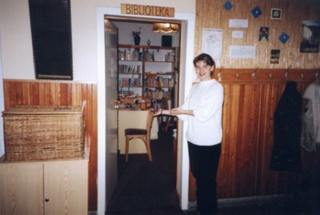 In 1986, when our library was starting to work, there were only about 300 books available, but we were happy with that. Nowadays we have a big, unique and carefully gathered book collection. There are about 6700 books, 3200 audio cassettes, 160 video cassettes, 400 CDs, around 600 magazines as well as 50 CD-ROMS and 50 DVDs.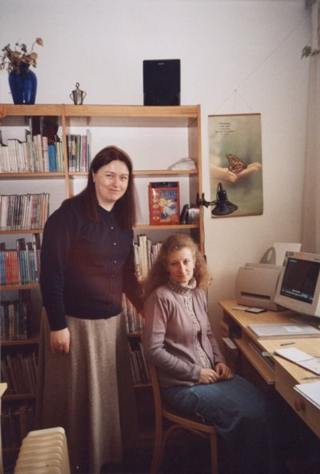 Our collection is carefully formulated in the MAK computer program by Sylwia Dziekan. Two years ago we finished working on our books catalogue, which contains more than 3500 titles! And a good time has come for us, because our catalogue is available on the Internet.
We are trying to appreciate the modern trends and needs of contemporary man and therefore some time ago we started buying CDs, DVDs and video cassettes as well as CD-ROMS. We have placed our books catalogue in the Internet, moreover, since several years we've had our own website. People can contact us not only on the phone but also through e-mail.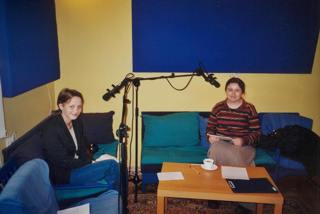 Our collection contains literature, music, lectures and movies for adults, youth and children. It is all mainly in Polish, but we do also have some publications in English and in German. Our books are mainly Christian literature (novels, biographies, guides, devotionals, poetry, Bible studies, etc.), but we do also have sociological, psychological, historical publications, dictionaries and encyclopedias, as well as guidebooks about overcoming addictions.

Our Library is situated in two rooms and one of them makes a nice reading room. We have 1600 readers, many of whom are very active. It often happens that our readers become our volunteers who help us in our ministry or help by serving in our congregation, e.g. by visiting handicapped or elderly people who are no longer able to participate in the church services. We are always willing to involve the unemployed because they need it very much.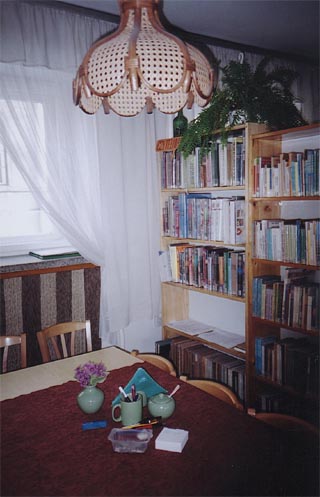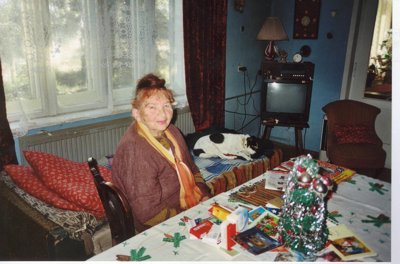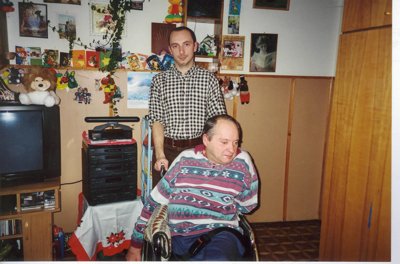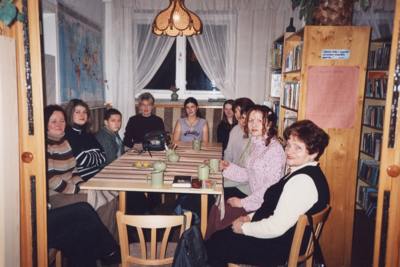 For the 22 years of my service, a lot of people, readers and volunteers have come in contact with our Library. I have to admit that it wakes pleasant memories and I can also boldly say that it is a privilege to work with such people. Therefore we also organize different ministries and different meetings, such as Mission Club, Movies Club, Young Adults Meetings, which often change into Bible groups.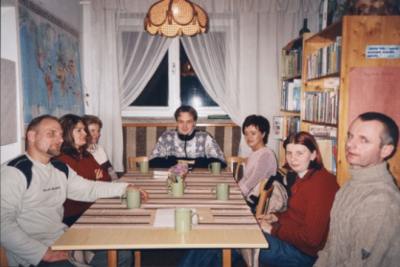 And here is our vision: Library for everyone in Skoczów through gathering and lending Christian literature, music and movies, wants to support the work of the evangelization of the world, contribute to the growth of believers and serve the society in different ways.
We are very happy that the Library can be open even 7 days a week. We are open to people of different denominations and churches as well as non-Christians. We care a lot that everyone who comes to us might feel friendly atmosphere and can feel welcomed to talk to us. As much as it is possible we also try to be spiritual advisers and support our readers in different ways.
One of important goals for us is "multiplying" and we called it "Mission through Libraries". Until now we have helped to establish 14 similar libraries in different churches in Poland. Presently our system has been joined by 27 libraries, 18 of which are Lutheran libraries and 7 of them are situated in Cieszyn diocese. The newest library has been started in Lutheran parish in Radom. We are helping those libraries mainly by giving them books that we have received from somebody else and which are unnecessary for us, but also by training the library supervisors, giving them some ideas (e.g. what a library advertisement can look like, etc.).
Soon, as a way of help for the other libraries, we will be also printing paper catalogues which will contain the most important information about the book as well as – attention! – a short summary of the book. This way those libraries will have the efficient and necessary library information. The work on summaries has lasted a long time. It became possible thanks to many volunteers and I want to thank them very much for that! The summaries are presently being typed in on the computer and God willing we will start printing them soon.
We don't neglect also the work on audio cassettes. Sylwia Dziekan has created their base in the computer and we have already included 800 cassettes in there.
Our Library gathers almost all publications that have appeared in the "Logos" "Słowo", "Warto" bookshops in Cieszyn and in "Jack" wholesale distributor shop. Except for that, all the audio cassettes and many music CDs from DeoRecordings Studio and from other publishers are collected here. Among the cassettes there are lots of reports from "Voice of the Gospel", and most of all, the whole collections from the Evangelization Weeks in Dzięgielów since 1986! We also have all the Polish video cassettes from DeoRecordings Studio and cassettes from the Polish edition of Campus Crusade for Christ and other publishers. Currently, we are in the possession of increasing number of CDs, DVDs, and CD-ROMS.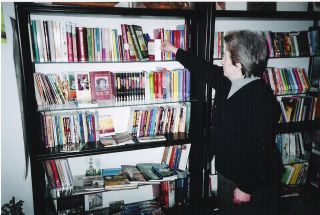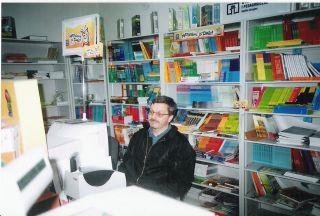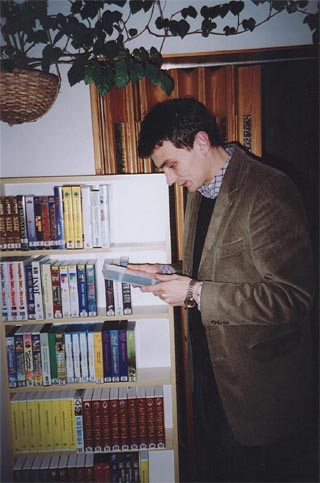 As much as w can we also support Polish missionaries by praying for them, writing to them and organizing meetings with them.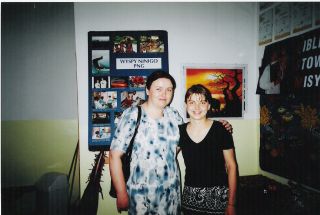 Another part of our work, which has been practiced for over 3 years, is cooperation with the CCM radio station. In the present, we are inviting many interesting people for the interviews.
We are aware that churches in diaspora are in a more difficult situation than we are. Therefore it is also part of our offer that from our branch library in Pierściec we make accessible a collection of books especially meeting the needs of a particular parish in diaspora. These are about 50 – 100 book titles together. In 2004 and 2007 such collection was sent for lending to a Lutheran congregation in Wołczyn and in 2005 to a Lutheran parish in Pisz. Further help from our side is that we are still open for starting new libraries and it is enough just to contact us about it or to read our website where some information on how to establish a library is included.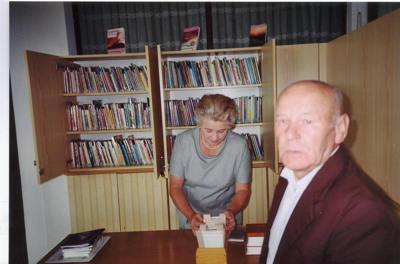 All this that I have written about here would not be possible if God did not bless us and help us. He was giving me strength when I was becoming week, as I am a handicapped person. He was giving me support and faith when something seemed to be impossible. Presently there are many people connected with the Library and we all live like in the best family. We always try to help each other in different ways. We visit each other in our homes, we wipe away each other's tears when that's needed, we help each other during renovations, etc. Therefore the Library has lots of visitors. Very often it happens that more than 50 readers come in a week.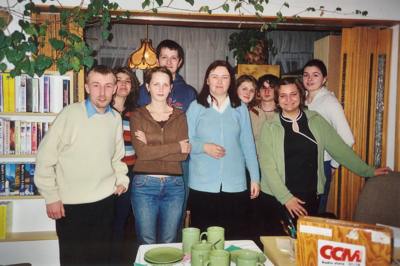 The year 2005 in our church was a year of Mission and Evangelization, and so even more we want to encourage everyone to use our Library and to contact us. We are open to any advice, proposals, questions and help.